I thenkgh wanna all oo. [clap] I thenkgh wanna plenti. E hard me for think say na daso 8 yaas dong pass, singce I be foss kam for meeting hia, I kam beg wanna say, I beg wanna, voote for ma massa, voote yi for presideng.[clap] Wanna mimba ha I bin tell wanna say yi na correck man, weyi get good fashon, noh? Wanna sep dong  teke eye see ha yi carry dat good fashon and good sengse do yi work for dis kontri. [clap]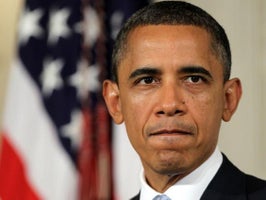 I bin tok too about waa geh pikin dem—ha dem na waa all and all and insai heart. And singce we shhtop for Wathaass so, I glad sotaaay for see ha dem dong big fain; from small play play chochoro tinghs dem so, to correck yoyette geh pikin dem. Dat waka bin start na taam wey we reesh Washingtong and dem begin for go skool. 
I no fit froget one morning taam so, for wingter, as I look ma pikin dem so,  dasso joss 7 and 10 yaas old, dem eenta mootoo shiddongh for corner some big big massa dem so, wey dem carry gun. [laugh] I see ha dier small small face so dey tight for window for mootoo, dem di look sooo—ma heart cut, I tok for masef say, wohmeiiii wandass, wookana  baaluck tingh dis wey we dong do for dis pikin dem so noh?! [laugh] Na singce dat day so, wey I tok for masef say, no'oh, the taam wey we go shiddongh for this Wathaass so, nayi go form dis pikin dier fashon. And we must lookut, bekoss dis experence go aida mek dem succeed or fail for life.
Na di tingh dat wey e di worry me and Barack anyday, as we di traa for protect we gehs dem and give dem good hoom training in front of peepoo dem—we tell dem say mek dem no mind all dat bad belle peepoo dem wey dem di traa for kweshon woosai dem born dier pa—wookana 'dentiti dier pa di carry and for doubt witch kanna god dier pa di warship'am. [clap] We mek sure say dey must sabi say dat wild tok wey dem di hia from wiket and baaheart and wooroo wooroo peepoo dem for TV no be the tinghs wey normal peepoo for this kontri di tokam. [clap] We tell dem say when chakara openeye peepoo halla dem, mek dem no halla back—no'oh, as we di tok'am,  no ever falla crissman run eenter for kwata. If e vex mek yi eenter bottle, e go hard yi. We go tannap for doormot, show yi nyanga.[clap]
Any taam wey we open we mop, anyting wey we do, we know say dis pikin dem di take eye so look we. We, dier mami and papa dem be dier role models. And I wan tell wanna say na so me and Barack we di work we work as Foss Lady and Presideng—we know say anyting wey we tok and wetin we do be important, nobi only for we geh pikin dem, but for all pikin dem for dis kontri. Pikin dem di tell we say, "I bin see you for télé, I be wraat paper about you for skool." Pikin dem, lek dat small black pikin weyi look ma massa so, open yi eye di wonda, aks yi say, "Ya biabia for head feva ma own?" [clap]
And no mek mistek dis Novamba! When we go voote, na tinghs dem dat wey we di voot'am—nobi Democrak or Publikang, or leff or raaght. No'oh, dis 'lekshon and any 'lekshon mean say we di choose person weyi go be in charge of we pikin dier future for the next 4 or 8 yaas.[clap] And for dis 'lekshon, the only person wey I truss'am witi dat kanna pawa wey I think say e get safitiket for be presideng for Amurrka. Na we frenn, Hillary Clinton. [clap]
Look'am eh, I truss Hillary for be Big chief dis kontri for sika say, I dong see work weyi di do for helep pikin dem for we kontri—nobi only yi own geh pikin weyi bring'am up perfeckly—[clap]— but all pikin dem wey dem need person for helep dem. Pikin dem wey dem di go sokool, deny sep for take konshort bekoss of crook dem for road. Pikin dem wey dem no get moni for go college. Even sep pikin dem wey dier pa and ma dem no even sabi tok 'Ngrish, but dem di too di still hope say one day dier own too go better. Pikin dem wey dem di look we, dem di wanda wetin dem too fit do one day.   
See'am eh, e don taay wey Hillary di do njongmassi work for change peepoo dier life. [clap]— yi dong support sick pikin dem taam weyi be be young lawyer. E be dong fight big fight for make pikin dem no di sick plenti, dat taam weyi be be Foss Lady. Yi mek sure say yi better dier life taam wey yi eenter for haass for senate. When yi no be win nomination 8 year ago, yi be tie yi heart, hide yi vex. [clap]
Hillary nobi pack yi carko run go sshtop for yi doormot--bekoss as correck poobrick sarvangt, yi sabi say, work for peepoo important pass work weyi go belleful yi one. So yi be jorrup, and yi be glad for kam back for work again for kontri; as Sektry for State. Yi dong waka for the whoole worl for mek sure say we pikin dem be safe. And lookam eh, plenti taam dem dey wey Hillary for s'top, tell yi sep say, ah ah, di work dong trong pass me. Dis one dong pass ma pawa and say yi dong taya for di cush wey dem di cush yi— cush wetin way yi di wear'am, weda yi be fain mammie, ha yi di tok, ha yi di waka and even ha yi di laff. But tingh wey yi mek me like Hillary pass anytingh, na bekoss dis mammi no be giveupteur. [clap] Yi no be leh-leh for take easy work. Hillary Clinton neva ever poom for anything for yi life. [clap]
And when I think about the kana Presideng wey I want for ma gehs dem, and for we pikin dem, na di kanna tingh dat wey I wantam. I want person wey yi get ngoom! Person weyi sabi work yi work and di tek'am serious. Person weyi sabi say, tinghs dem wey e concern Presideng dem no divide'am for black or white and dem no fit just wraat'am with 140 letters. [clap] Bekoss when you tek charge for bad bad mashine wey dem fit kill plenti peepoo one taam, and you tek charge for army, you no fit behaffe  lek crize man. You no fit be person weyi get high temper for vex quick quick. We need person weyi get cool temper, yi no di charge and person weyi get plenti sengse for head. [clap]  
I want presideng weyi don serve pubrik, person wey yi no go teesh we pikin dem bad fashon, like say for run after moni say mek peepoo dem lek yi for yi sef sef. We want person wey yi di fight for mek other peepoo dier life beta. [clap] And even if ya own no dey, yi go still give sometingh back for ora person, bekoss we know say, even as life hard all we, some peepooo still get pass some ora peepoo dem, na only God lookut we.
I want Presideng weyi go teesh waa pikin dem say all peepoo for dis kontri na important peepoo—President weyi believe for the kind kontri wey we grang grang pa dem be plan'am long long taam ago—say all man for dis grung na the same, and any man  na one beautiful part for the big Amurrka yi tory. [clap]  And when trobu kam, we no go start fight among we sef sef—nobi trong man helep yisep. Ora one baba ora one for yi back.  Bekoss when we dey one, we trong. [clap] And I dey hia dis night bekoss I know say na dat kanna presideng wey Hillary Clinton go be. And na di reasong dat wey for dis lekshon, I get yi back. [clap]
Look'am eh, Hillary sabi wetin wey yi mean for be Presideng, you hia noh?—and e mean say person  muss leave some small tingh for one sai for yi pikin dem for tomorrow. Na so we dong manage for carry this kontri for before—as we join hands for we pikin dier sake— Peepoo wey dem choose for work for nating—peepoo wey dem teesh for Sunday skool— bekoss one hand no fit tie bundle. Don man dem from all place di wear all kanna uniform di rixx dier life for pass di blessing for freedom. Mbellé dem and peepoo wey dem dong vex di march for Daallas bekoss dem all want keep we pikin dem safe. [clap]
Peepoo wey dem tanap for line for Orlando for give blood, bekoss if nobi gooluck, e for be na dier own pikin dem insai dat club. [clap] Leader lek Tim Kaine—[clap] wey dem di show we pikin dem how for get good fashon. Leaders lek Hillary Clinton weyi di tie heart, di still come back until yi chappiar road for we all for pass through falla yi. [clap]
Na dis kontri yi tory dat. Tory wey yi bring me for hia today, na tory about slave dem wey dem be di beat dem. Slave wey dem be feel boyboy yi shame. Slave dem wey peepoo be baaheart dem—but dem be still di traa for manage, dem do the correck tinghs, and dem no loss hope— sotay today na me dis di wookup any morning  insai haass wey dat slave dem builam. [clap]—and I di look ma geh pikin dem; pikin dem fain taam no dey, black yoyette pikin dem wey dem get sengse—di play with dier dog dem for field for Wathaass. [clap] Na bekoss of Hillary wey ma geh pikin dem—and all we we boy and geh pikin dem—fit start think say, even me too sef, I be Presideng for Amuurka one day. [clap]
So no ever gree mek man tell you say dis kontri no be still Amuurka Wanda. Lek say some person fit still mekam America wanda again. Bekoss I swear to god say, dis kontri na the greatess wandass for dis grung. [clap] And as ma pikin dem di prepare for komot for haas find dier own road, I want leader wey yi champion dat leader weyi deserve for mek promise for ma pikin dem and all we pikin dem—leader weyi get love and good for yi heart and weyi think big tinghs for we pikin dem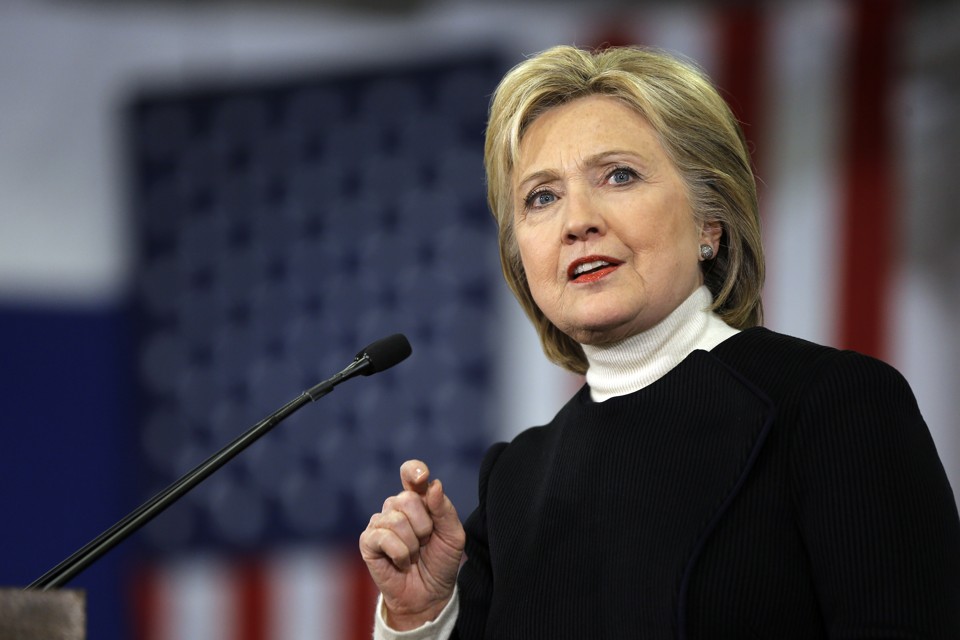 So for dis lekshon so, we no fit shidon relax for doormot, think say all tinghs dem go waka fain, even if we no do nathing. We no fit tok say we don taya or vex or we tie face. No'oh— wanna see'am eh, from now now so offto Novamba, we get for do the same thing wey we do 8 years and 4 years ago: We must comot for haass go knock kwakwa for ora peepoo dier ntang. We must get every voote. We must troway all we ngoom and we pawa and we trong eye, and we love for dis kontri make peepoo choose Hillary Clinton for Presideng for the United Stet of Amurrka. Mek we go work. I thenkgh wanna all, and God bress wanna ooh!!
[By Samira Edi]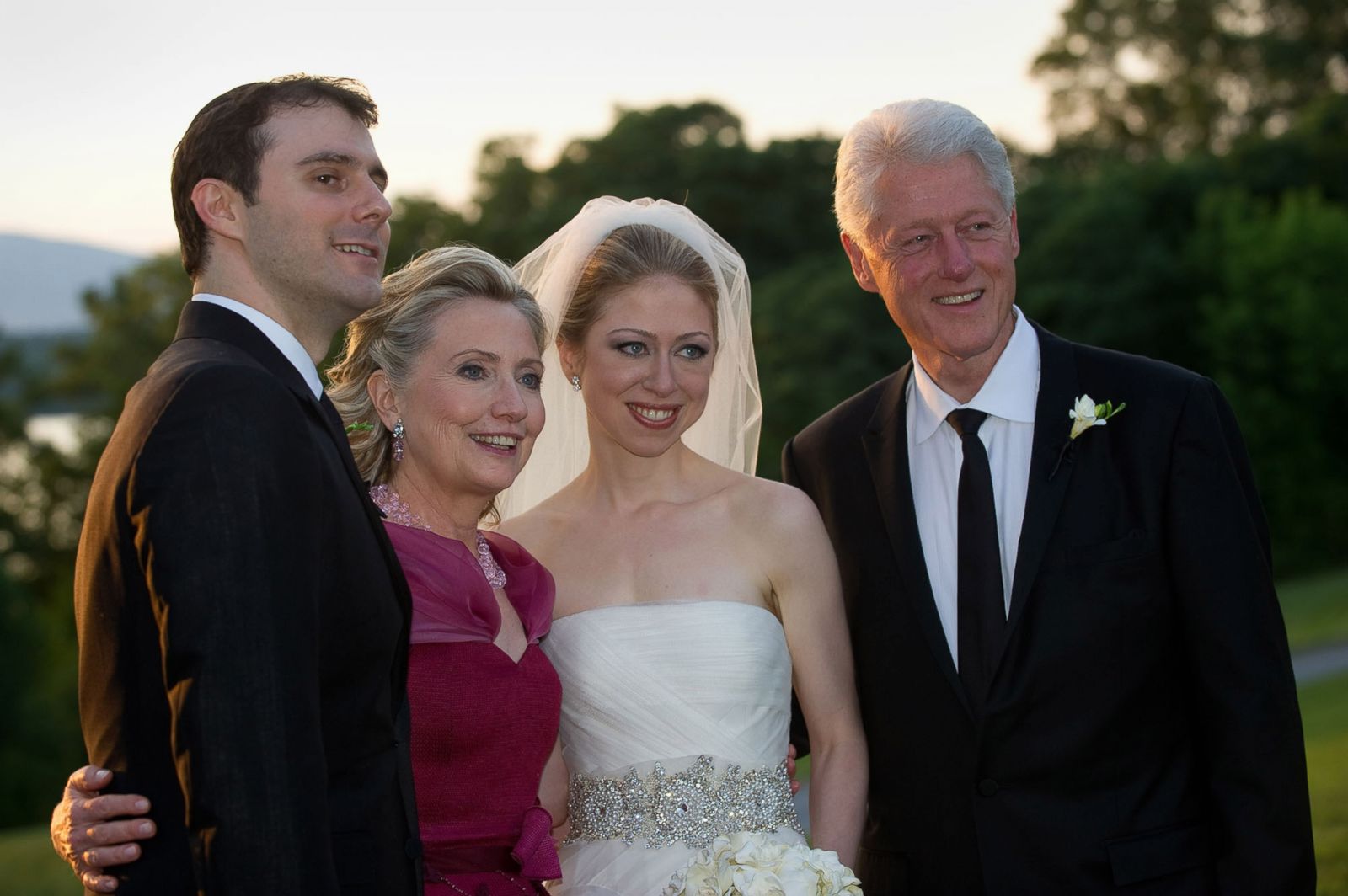 Disclaimer: I do not own the copyrights to any of the pictures used here. If any owner wishes to have me remove them, I'll be glad to oblige. In the meantime, thanks for allowing me to use your photos unauthorised. Another thing, although I'm not from "Bamenda", I've a vast knowledge and experience with the people of the NW because most of my teenage years were spent in B'da. The text is copyrighted © to Samira Edi